Londonderry student guilty of indecent child images charges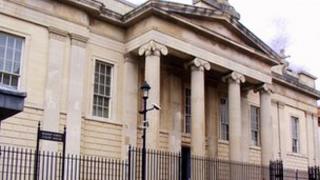 A 23-year-old information technology student at the University of Ulster's Magee campus has pleaded guilty to possessing indecent images of children.
Brendan Murphy, from Meadowlands Avenue in Warrenpoint, admitted 22 charges at Londonderry Crown Court.
He also pleaded guilty to one further charge of possessing an extremely graphic image of a child between December 2009 and March 2010.
He will be sentenced on December 11.
Following his guilty pleas, Murphy was automatically placed on the Sex Offenders' Register.
The length of time he will be on the register will be determined when he is sentenced.
In the meantime he was released on continuing bail.
As part of his bail conditions, Judge Piers Grant ordered Murphy not to access the internet and not to possess a computer unless under police supervision.