Derry City's Brandywell Stadium targeted by vandals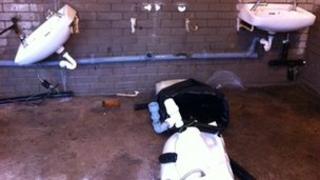 Vandals have broken into Derry City's Brandywell stadium causing extensive damage to several toilet blocks.
The incident was discovered on Monday morning.
Staff arrived for work to to find parts of the building flooded and wash hand basins ripped from walls.
Jeff Ashe from Derry City Council, which owns the stadium, believes theft might have been the motive for the break-in.
"Someone has forced open the doors and gone on a spree.
"I think they were trying to steal some copper piping but they have found that a lot of the copper has been replaced by plastic piping and they vented their anger by smashing things.
"They have taken around four foot of copper pipe, I don't know how much they will get you but I can't imagine it will be very much.
"Sinks have also been ripped off the walls and water left running all night.
"It's a scene of total desolation, it is unwarranted.
"People always say that the facilities at Brandywell are basic enough, but the toilets are a basic need.
"The stadium is going to be out of action for a week or two now until we get this fixed.
"It beggars belief, you just wonder how something like this could happen."