Hundreds of new student places to be allocated to Magee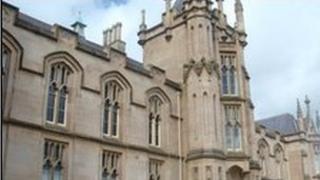 The Magee Campus of the University of Ulster is in line to get hundreds of extra student places.
The Minister for Employment and Learning, Stephen Farry, said the greater share of the extra places allocated to the University of Ulster will go to the Derry campus.
They will be in the so-called STEM subjects of science, technology, engineering and maths.
Mr Farry said he could not give a precise figure at the moment.
"As a department we don't micro manage with the universities, they are autonomous bodies.
"The allocation will go to the University of Ulster which in turn will allocate between the campuses.
"The vice-chancellor, Richard Barnett, has already been on record as saying that any additional places to his university will go to Magee."
It follows a campaign to have the cap on student numbers at Magee lifted to boost its expansion plans.
Paul Gosling from the lobby group, U4D, (University For Derry), has welcomed the move.
"If we can get an extra 500 students, that in itself will generate around £25 million into the Derry economy.
"If you add together the extra 350 we already had, that is around £40 million a year.
"That goes into the heart of the local economy, it goes into retail spending.
"You have extra people employed, you also have extra trade for cafes, bars, hotels, property prices rise, so it goes across the local economy.
"This isn't something that only delivers for people who are students who get better jobs because of it, it goes to the benefit of the whole of the local economy."
Mr Gosling said the extra places have come to Magee because of the work of local political figures.
"It is politicians delivering.
"Any credit for anything that happens here has to go to the politicians.
"We have been strongly supported by Sinn Fein and the SDLP.
"Maeve McLaughlin from Sinn Fein has said she will speak to the minister and urge for all the places to come to Magee and any credit for any expansion has to lie with the politicians because it is politicians who will deliver, or won't deliver."