Londonderry prisoner claims assault by prison guards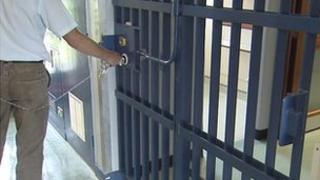 The Londonderry family of a remand prisoner at Maghaberry jail has claimed his wrist has been broken in a struggle with prison staff.
43-year-old Tony Taylor has been charged with possession of a firearm with intent to endanger life last year.
His sister claimed prison staff became violent towards her brother when he asked for documents ahead of a court appearance in Londonderry.
Joanne Starrs claimed tensions are running high in Maghaberry.
"When I spoke to him on Thursday, Tony told me the prison staff are punching them and spitting on their food in front of them before they eat it.
"He said the tension is terrible in the prison at the moment."
Ms Starrs said the tensions came to a head as her brother was preparing to go to court for a remand hearing.
"On the way out to the van to go to the court hearing he asked for his papers and was told he wasn't getting them.
"Tony said he was entitled to them and asked the prison officer to go and ask the governor for them.
"When he came back, he said the governor told him he wasn't getting them and a member of the prison staff bounced Tony's head off the side of the van.
"Then he put his hand on the back of his head and pushed it down on a bar.
"The riot squad came out and kicked Tony in the face and stood on his hand.
"He didn't get any treatment until Thursday night when it was confirmed that his wrist was broken and he also has injuries to his thumb and back.
Ms Starrs also claimed that while he was being beaten he was called a criminal by prison officers, and an official complaint has to made to prison authorities.
The Prison Service have issued the following statement: "The Governor is investigating an incident in a prison service van at Maghaberry Prison yesterday morning, (Thursday) involving a prisoner who was about to leave for court. One Prisoner Custody Officer received hospital treatment following the incident."