Chief Constable voices concerns ahead of City of Culture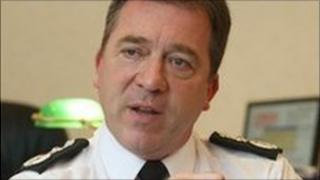 The Chief Constable said he is "very concerned" about the threat dissident republicans may pose to next year's UK City of Culture in Londonderry.
The Real IRA has already carried out a number of attacks linked to Derry's year as UK City of Culture.
Matt Baggott was in the city on Thursday to meet community representatives.
He said the dissident threat is an issue that is "ever present."
"I think the city has a great opportunity to put down a marker for the future, to show that the renewed relationships here can be sustained, that what happens next year can bring jobs and tourism and hope for many people.
"I have to be very concerned about dissidents because we have seen what they can do and we have seen their intent.
"We have seen that in spite of the fact that 99% of the city is looking forward to this great year, some of them seem to be impervious to persuasion or conscience.
Concerned
"So we have a right to be concerned about that."
Mr Baggott said money that is being diverted into tackling dissident republican activity could be better spent.
"That money should be spent on hospitals and schools, and other things to support the community.
"So, we know what they can do, we've had to put money back into dealing with it.
"On occasions, with huge sadness, they are able to murder.
"Let us be clear about this, we are fully behind the City of Culture, fully behind making this a success and I believe it will be a huge boost, not just for Derry/Londonderry, but for the whole of Northern Ireland."
The meeting between community representatives and the Chief Constable was hosted by Derry priest Fr Michael Canny.
Fr Canny said dissident republicans will not be allowed to drag Northern Ireland back to the past.
"I share Matt Baggott's concerns. I am not naive to the fact that some of them are looking forward to next year to one or possibly two possible specaculars.
"These people are the enemies of our city, but that cannot stop the 98% of the people of this city working together.
"They cannot be allowed to bring us back to the past."