Belfast cat hitches lift to Londonderry under car bonnet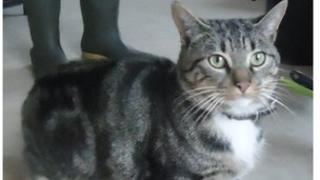 A Belfast cat has used up at least one of its nine lives after it hitched a ride to Londonderry under the bonnet of a car.
Driver Gary O'Sullivan said he heard a strange noise as he drove the 60 miles from Belfast to Derry.
Little did he know that it wasn't his engine purring.
When he arrived, he stopped at a car park, lifted the bonnet and found a very shocked stowaway.
The cat is now being cared for at an animal refuge and a Facebook appeal is under way to find its owner.
Gary thinks the cat got into his car when he was heating it before leaving home on Monday morning.
"When I opened the bonnet he eventually got himself out, but he was quite shaken up," he said.
Search
"I have been on Facebook trying to find the cat's owners and I've been putting up some posters. Maybe we'll also knock on a few doors.
"It definitely came from the Four Winds area of Belfast where I left from this morning, because I didn't stop on the way to Derry.
"He is wearing a collar, and is very friendly so it is definitely a family pet."
The cat was taken to the Rainbow Rehoming Centre where director Helen Davies said he is making a good recovery.
"He is really quite content.
"He did have some wee marks on him, but he seems to be alright now.
"He is eating well and spending his time looking out of a window.
"He is a tabby with four white paws.
"We have had him on Facebook as well and people are to get back to us, but we have not been able to find the owner as yet unfortunately."