Hurricane Sandy claims lives of Donegal man's toddlers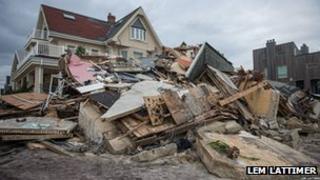 A Donegal father who now lives in New York is mourning the loss of his two young sons who were swept from their mother's arms and killed during super-storm Sandy.
Damien Moore, who's originally from Portnoo, lost his four year old son Conor and two year old Brendan.
Donegal Priest Fr Philip Daly said they are a long established Donegal family
Fr Daly has has been comforting the children's grandparents, and said they are devastated.
"They are in shock, in disbelief.
"Like all of us they would have been aware of what was happening in New York and New Jersey with the weather.
"Again I suppose like most of us they remained up to a point detached, so it was only when they got the awful news about the two youngsters being wrenched from the mother's arms that they found themselves at the centre of this tragedy."
Fr Daly said the community in Portnoo has been rallying round the extended Moore family.
"Since this happened the parish has been very very supportive, many people have called to the house to see the grandparents Paddy and Fay.
"Many people had masses said.
"Our hope is that when the funeral arrangements are made in New York, we hope to have a mass on that day here as well as Paddy and Fay won't be able to travel that long distance to attend the funerals of Conor and Brendan."