Watchdog report: 'unexplained injuries' at care home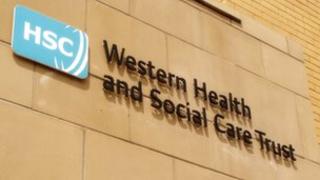 A health watchdog has revealed that vulnerable adults sustained a "significant number" of unexplained injuries at a residential home in Londonderry.
A number of staff at Ralph's Close in the Gransha complex have been suspended while the PSNI investigates allegations of mistreatment.
The review was carried out by the Regulation and Quality Improvement Authority which inspects the quality of health and social care in Northern Ireland.
In September a number of staff members were suspended during the police investigations.
At the time the Western Trust, which runs the facility, did not go into the specific nature of the abuse allegations.
Nor was it stated how many staff had been suspended but the trust did make an appeal to the public for information.
Ralph's Close has 16 adult residents, from the age of 18 upwards.
On 24 July an anonymous letter was sent to the Western Trust alleging, according to the Regulation and Quality Improvement Authority (RQIA), physical and psychological abuse at Ralph's Close.
In August, the RQIA then decided to carry out a review of safeguarding arrangements at Ralph's Close.
The review team looked at five specific areas.
The response of the Trust when they received the letter; their decision making in terms of whether any staff should be suspended on a precautionary basis; the role of independent monitors within Ralph's Close and then communication - both within the Western Trust and with other authorities.
Recommendations
The RQIA made 13 recommendations in their review.
In terms of the trust's initial response to the letter, it concluded it had taken immediate action and responded appropriately.
In terms of staff suspensions, the review found that at a meeting held the day after the letter was received, it was decided the 17 staff at the home would not be suspended as a precaution as it would mean closing the home.
It is also pointed out that no individual staff members had been identified in the letter.
The RQIA concluded this decision meant there was a possibility that members of staff, who had participated in alleged abuse, would still be at work during the investigation.
In a statement, the Western Trust said it was confirmed on 25 October by RQIA that the fifth and final 'failure to comply' notice regarding staff training, supervision and appraisal at Ralph's Close had been lifted.
It added that in the safeguarding review, the trust had "acted promptly and took immediate and appropriate action" to address the recommendations.
The Trust says that 12 of the recommendations are now in place and it has started a procurement process for the final recommendation regarding the establishment of an Advocacy Service.
The PSNI have confirmed that their investigation is on-going and said they will continue to work closely with the trust.