Londonderry woman feared for her life after car fire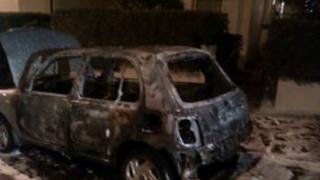 A Londonderry woman said she feared for her life after her car was destroyed by fire.
Sheila Bryce was alone at home at Beechwood Avenue on Wednesday night when she heard an explosion.
When she went outside she saw her car was engulfed in a ball of flames reaching up to 20 feet in the air
The vehicle is believed to have rolled down a hill, damaging other cars before the emergency services were called.
Ms Bryce said she was told by fire officers she was fortunate her house did not catch fire as well.
"All I could see was a wall of flames, the car was just an inferno.
"The lights were off at the front of my house and my neighbours thought I had gone to bed for the night.
"Nobody could get in to the front of the house because the car was parked right up against the gate.
"It was terrifying, I couldn't believe what I was seeing.
"My main concern was the house because the wind was blowing towards it
"The hedges at the front of the house were singed.
"The fire brigade said if they had been five minutes later the house could have been torched."
Ms Bryce said he does not know how the fire started.