Society has failed tragic teenager Erin says priest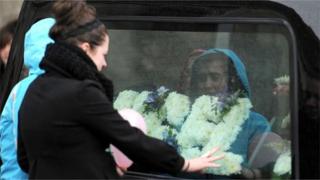 A County Donegal teenager who took her own life has been failed by society, a priest has told her funeral service.
Erin Gallagher from Ballybofey killed herself after being taunted on a social networking website.
She was buried after requiem mass at the Church of St Mary Immaculate, Stranorlar, on Wednesday.
Mourners heard Father John Joe Duffy question the level of resources available to deal with bullying and the failure to monitor and ban websites.
"I am asking all agencies and arms of the state who are responsible for the care of children to finally come together and formulate a comprehensive policy of prevention and support.
"Helping individuals so that this day will never have to dawn on another parent or family in this country again,.
"This is the challenge we, as a society now face. We are only here today because society has failed Erin Gallagher.
"The authorities may hide behind technical and other difficulties but these sites can be regulated and they must be regulated.
"This is not the first tragedy, but let it be the last. But it can only be the last when we face the reality that we are not standing up to this as a society.
"As a country we are very good at aftercare after the fact but we fail miserably at prevention.
"We have seen the excellent support, these past few days, from professional services but must take a step backwards and ask what levels of support were available and where were they before this tragic event."
During the Mass, a teenage friend broke down crying as he read a poem in Erin's memory.
When he finished, there was a round of applause from the audience.
Outside the chapel, school children wept as Erin's coffin was lifted into the hearse, some of them touching the side of hearse.