Threat to Derry Christmas market after publicans object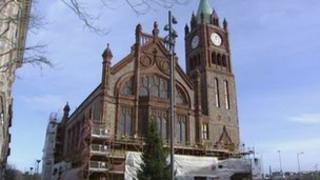 Plans for a Christmas market in Londonderry's Guildhall Square, may have to be scrapped because of objections from publicans.
The application for the market licence includes provision for a bar.
Five bar owners are objecting to the licence because they fear it will affect trade in the busy Christmas period.
The application was adjourned until 30 October.
An application for the licence was lodged by Meenan Square Ltd, the proprietors of the Bogside Inn.
The market is due to run from 2 December for three weeks.
The five objectors are the proprietors of the Metro Bar, Downey's Bar, Monaco Bar, The River Inn and Tracey's Bar.
Thomas Doherty, representing Meenan Square Ltd, said the market was on a similar scale and venture to ones in Belfast, Galway and Dublin.
Mr Doherty also said the event had the full support of Derry City Council, and there were no objections from police.
"If this application for an occasional licence for the Christmas market fails, then there will be no Christmas market in the city."
He said he believed there was no basis for the objections from the five local bar proprietors.
The District Judge, Mr Barney McElholm, said he only became aware of the objections on Friday morning.
He said he was not entirely clear what the legal arguments were, and he wanted to study the law in relation to the application and objections.