Phil Coulter to pen new song for 2013 City of Culture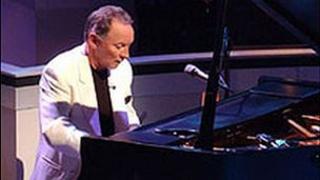 Derry songwriter Phil Coulter has revealed he is writing a new song for the Derry/Londonderry 2013 year of culture.
The Ivor Novello Award winner was back in his home town on Thursday for the launch of the programme of events.
He will also play a concert with the Ulster Orchestra at Ebrington Square in June next year.
Mr Coulter said he was thrilled to be asked to get involved.
"When it was announced that we would be the city of culture I jumped on board and was delighted to lend any support I could to the whole thing.
"People keep asking me should I not write another verse to The Town I Loved So Well which I resisted because that was about Derry then.
"Derry now is a very different place.
"We were famous for all the wrong reasons for a long number of years and I think now the opportunity has come for us to step up to the plate and show what we can do in a positive way.
"I'm delighted to play whatever small part I can."
The Culture Company has also revealed Derry/Londonderry's 2013 UK City of Culture will be the richest cultural programme ever assembled on the island of Ireland.
After more than two years of speculation, the programme arrived in the city on Thursday.
It arrived in style, brought up the River Foyle by speedboat.
The Chief Executive of the Culture Company, Shona McCarthy, said the hard work had been worth it.
"From January to December 2013, art, and event and spectacle will spill out of every corner of the city.
"The whole city is a canvas. There are hundreds of free events, thousands of tickets.
"This is one party to which everyone is invited.
"We set out with several missions. First of all we wanted to showcase to the world the wonderful people, talent, organisations, festivals and arts and cultural scene of Derry.
"We wanted to bring amazing work here and create amazing work which as many people as possible could access and participate in."
Graham Farrow, the Executive Programmer for City of Culture said the plan is to celebrate the heart and soul of Derry.
"Something like this does not come around often and when you get the chance to have a real effect which could be transformational in the life of a city then you can't not do that.
"When big things happen in small places, it is a very very special thing.
"A couple of years ago the Turner Prize was in Gateshead and more people went to see it there than did in London and that's what will happen here."