Publicans in Derry angry at Christmas market plans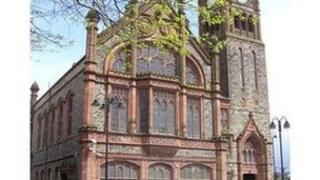 Several local publicans in Londonderry have said they are angry at a council proposal to install a bar at the city centre Christmas market.
Derry City Council is working with an events management company to set up a continental market at Guildhall Square for three weeks in December.
The company has applied for a bar licence for the event.
The chairman of Derry Vintners Association, Gerry McCloskey, said the proposal would damage other businesses.
Mr McCloskey, who owns a bar beside Guildhall Square, said it comes at a time when local bars are already struggling, with six having closed in the city since last Christmas.
"Every pound that is spent at the market bar would otherwise have been spent at a local bar that employs staff, pays rates and rent, and also pays money to the council for things like bins," he said.
Tony Monaghan, who is a senior economic development officer with Derry City Council, said the council was aiming to encourage more visitors to come to the city over the festive period.
"This is a market on an unprecedented scale for the city," he said.
"We are trying to put it on a similar scale to markets across Ireland and the UK."