Londonderry woman attacked with fireworks by children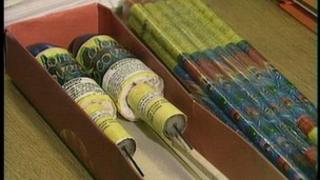 A Derry woman said she was left terrified after fireworks were thrown at her face as she waited on a taxi.
She was set upon by a group of youths, some of whom were wearing masks, on Thursday afternoon outside Northland Shopping Centre in Shantallow.
The woman said when she challenged them she was subjected to verbal abuse and coarse language.
She said some of them were as young as nine years of age.
The woman did not want to be identified for fear of repercussions.
"I was waiting for the taxi when the ring leader started firing rockets at my feet.
"The rest then starting joining in.
Rats
"They were like a pack of little rats.
"The leader was standing about an arm and a halves length away from me when he threw the firework at my face.
"I took a swipe at him and he just laughed at me.
"An old neighbour of mine saw what happened and he went after them and he was verbally abused as well.
"He went into the shopping centre to get a security man and explained what had happened.
"The security man said they had no control over these young people and their hearts were broke with their behaviour every day."
SDLP Councillor Sean Gallagher said he hoped the culprits were caught on CCTV camera.
"If some of them are in some uniforms they can be identified because that kind of behaviour is simply not acceptable.
"I'll be speaking to the Northside Shopping Centre and I already have a fair idea who they are."