Nazareth House care home in Londonderry in police investigation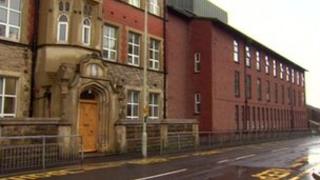 The police have confirmed they are investigating allegations of inappropriate care at a residential care home run by nuns in Londonderry.
Nazareth House in Bishop Street is run by the Sisters of Nazareth, but part of the facility is facing closure.
The BBC understands the issues of concern were reported to the PSNI by management in the home.
The Sisters of Nazareth said they were working closely with police and cooperating fully with the inquiry.
The Western Health and Social Care Trust said placements in Nazareth House had been suspended pending the conclusion of an investigation into care practices.
Nazareth House, which has been in operation for decades, is divided into two care facilities - Holy Family and St Oliver's.
Jobs loss
On Wednesday, the Sisters of Nazareth announced plans to "consolidate the operation", and confirmed that the 38 bed unit at St Oliver's would close next month.
The order said a small number of residents would be transferred to the Holy Family unit on the same site, and staff requirements would be reviewed.
In practice it means eight residents will move into the Holy Family unit, with a potential loss of up to thirty jobs.
However, there is uncertainty over the future care of two residents at St Oliver's who are not believed to be suitable for a transfer to Holy Family as they have different health care needs.
The police inquiry into care practices at Nazareth House is said to be almost complete.
The SDLP MLA for Foyle, Pat Ramsey, said he was aware that both the home's management and the health trust were "fully cooperating" with the PSNI investigation.
However, he urged the police to ensure it was "executed as quickly as possible".