Nazareth House confirm elderly care unit is to close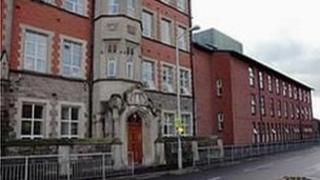 A residential care unit at Nazareth House in Londonderry is to close next month putting some of the 40 jobs there in jeopardy.
The Sisters of Nazareth said St Oliver's unit in Bishop Street will close and some residents transferred to another unit in the facility.
Relatives of residents said they are being left in the dark about the changes.
Their case has been taken up by the SDLP MLA, Pat Ramsey.
The daughter of one elderly resident said she is 'absolutely devastated' at the news.
Dara Doherty's 82 year old father, Larry, has dementia and has been living in Nazareth House for two and a half years.
"I visited daddy as normal and he told me the unit was closing.
"I went to see the manager and she said it was true, that was how I found out which was very upsetting.
Ms Doherty said she has been told it is unlikely that her father will be moved to another unit at Bishop Street because of the care he needs which, she said, is unacceptable.
"We haven't been told where he is going.
"I was told I would have to look round at other places.
"The manager was giving me suggestions of places to go, but you can't tell me there is a place in Omagh for example, because daddy isn't going there."
The SDLP MLA Pat Ramsey said there needs to be more transparency about care levels and possible job losses
"I am gob smacked by this news.
"It was only a number of weeks ago I had been briefed by the Health Trust.
"They were not aware of the potential for job losses at Nazareth House given the safeguarding processes that had halted new admissions.
Outrageous
"It is an outrageous situation when management have not met or even talked to elected representatives about internal processes, and indeed staff had been forbidden from doing the same.
"I am calling on the Nazareth House organisation to provide clarity to staff, the public and most importantly, residents of St Oliver's and their families, about the immediate situation.
"If there are to be job losses as a result of internal restructuring, as I believe staff have been informed of, then the management of the organisation have not informed the Trust.
Nazareth House has released the following statement.
"Sisters of Nazareth have today confirmed their decision to consolidate the operation of their residential care facilities in Bishop Street, Derry, over the course of the coming month.
We will transfer the small number of residents who currently reside in St Oliver's care unit to the Holy Family care unit, which is situated on the same site.
In light of our decision to consolidate our residential services we will be reviewing our current staffing requirements.
We will ensure that we fully brief all of our current employees as we move forward with this process.
We would also like to reassure the family members of the residents that remain at St Oliver's that their programme of care will be unaffected by the move."