Undertones musical set for Derry City of Culture year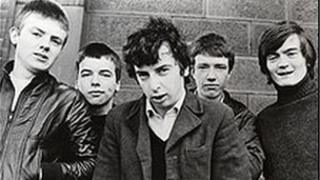 The Arts Council in Northern Ireland has announced £1m for next year's City of Culture celebrations.
The funding will support 18 projects, including a stage show about The Undertones written by the award winning novelist, Colin Bateman.
Other highlights include the largest ever exhibition of works by Turner Prize nominated artist Willie Doherty.
The full programme will be announced later this month.
Bob Collins, Chairman of the Arts Council of Northern Ireland, said the announcement was just a taste of what could be expected from next year's cultural festivities.
Outstanding
"As the first ever UK City of Culture, expectations are high for Derry/Londonderry to deliver an outstanding programme in 2013.
"This announcement confirms that there will be much to look forward to.
"The Arts Council's £1m investment will be used to support local arts organisations to deliver new projects worthy of international attention.
"The arts are helping to transform our image and show the world what we already know, that we have some of the best artists right here in Northern Ireland.
"City of Culture 2013 is an opportunity to celebrate and showcase their work to global audiences."
The announcement has been welcomed by Chair of the Culture Company Martin Bradley.
"This latest investment is great news for the city and for next year's much anticipated cultural programme.
"The top class events that have been announced today give an indication of the Arts Council's commitment to our celebrations in 2013.
"To invest a sum of £1million in City of Culture shows the faith that the Arts Council has in Culture Company's ability to deliver the fantastic full programme of events."
Colin Bateman is currently in the early stages of developing his script for Teenage Kicks.
The punk musical, set in the city during 1970s, will be produced by the Millennium Forum in association with the Nerve Centre and features songs by The Undertones.
"Even those too young to remember The Undertones first time around will be familiar with their music.
"As a band they captured the mood of a generation and their amazing energy immediately comes back to life when you hear their songs today.
"They have become synonymous with Northern Ireland and Teenage Kicks will use their distinctive sounds as the starting point to tell a story of the punk generation," he said.
The announcement comes in a difficult week for the Culture Company.
Last week the Marketing Director Garbhan Downey was suspended.
The Chief Executive of Derry City Council Sharon O'Connor announced the body wes taking over the budget for next year's celebrations.
She said the marketing function of the Culture Company was "not performing."
Mr Downey is taking legal advice on the matter.