Derryman charged with trying to choke former girlfriend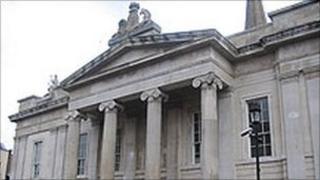 A 19-year-old man has been charged with attempting to suffocate and choke his 17-year-old girlfriend when she was four weeks pregnant.
Londonderry Magistrates Court heard that Jonathan McCusker, from Clonmeen Drive in Strathfoyle, is also alleged to have kicked and punched her in the stomach.
A police officer said Mr McCusker is currently in custody charged with offences linked to an attack on a middle aged couple in Derry last June.
He was remanded in custody until 1 November
The officer said the alleged smothering and choking of the pregnant woman took place on 15 September.
The defendant is alleged to have pressed a pillow against her face and also squeezed her neck with his hands.
The police witness said the complainant heard the defendant counting to 20 and he is then said to have told her "if I do this to 30 you will be dead."
It also emerged in court that the defendant has 32 previous convictions.