Derry police officers injured after car rams land rover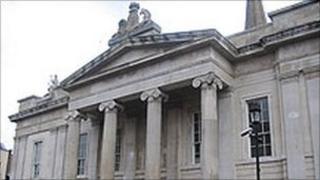 Several police officers were injured when a car crashed into their land rover in Londonderry.
The officers sustained minor whiplash injuries in the incident in William Street early on Saturday morning.
On Monday, Ryan McLaughlin from Broomy Lane in Derry appeared at Londonderry Magistrates Court on in connection with the incident.
Mr McLaughlin, who denied the charges, was refused bail and was remanded in custody until 24th October.
The charges include dangerous driving, failing to stop, failing to remain at the scene, and failing to report a road traffic crash.
A police constable told district judge Barney McIlholm that when police tried to wave down a car being driven along William Sreet at 2.30am BST on Saturday, without its headlights ,on the driver revved the engine and drove at the officers who had to jump to safety.
The car then crashed into a police land rover slightly injuring the officers inside.
It was then driven off at sped and is still missing.
The officer said the defendant was recognised by the police and was arrested later on Saturday.