MLA concerns over graffiti claiming to name drug dealers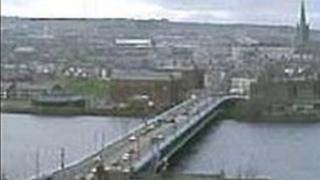 Graffiti claiming to name people in the drugs trade has appeared on walls in Londonderry.
The graffiti has appeared in various places across the city including the Top of the Hill area of the Waterside.
Attempts have been made to remove it, but it keeps reappearing, according to SDLP MLA Pat Ramsey.
Mr Ramsey said people who are named have been contacting him because they are concerned for their safety.
"I am calling on those responsible for this vandalism to stop immediately," he said.
"No-one in this community has the right, nor the power, to hand down judgement on anyone who they say may be involved in crime."
The MLA said those responsible were "sinister elements within the community with an agenda".
"It is absolutely appalling to me and the wider community that any individual or group for that matter, would think they have some form of summary justice power where they can name individuals and seek to relate them to crime," he added.
"The only system that can or should be involved where a crime - alleged or otherwise - has taken place, is the criminal justice system.
"It would fit the people who are seeking to blacken the name of individuals better if they put their money where their paint brushes are.
"They should speak to the police, and stand in front of a judge and jury to testify against people they accuse of crimes.
"Otherwise, they should wise up."