Children in Londonderry injured by illegal fireworks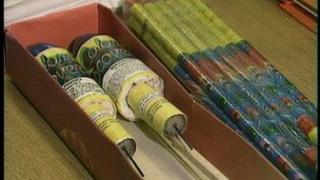 A 14-year-old boy has been badly injured after a firework was thrown into his lap in Londonderry.
Joseph Gillen was playing with friends in the Rosemount area of the city on Friday when the incident happened
He's being treated in hospital for burns.
The PSNI's neighbourhood sergeant, Sam Young, said if the culprit is caught they will be charged with grievous bodily harm.
"Anyone injuring someone in this way is going to face very serious consequences legally.
"Should they go to court we are not talking about a slap on the wrist.
"If it was a child it would certainly be a matter for court for that level of injury or in the case of an adult it would go to the Crown Court.
"The level of injury is such you are causing permanent disfigurement."
In a separate incident in Derry, a boy needed surgery to his hand after a firework exploded while he was holding it.
Sergeant Young said police are also investigating that incident.
"A minor bought fireworks from someone who was slightly older.
"When he lit the firework he tried to throw it but didn't get rid of of it in time. It was at his own home there was no one else involved.
"As a result he has had to have surgery on his fingers.
"Neighbourhood officers will be following that up and where we can identify the source of fireworks coming in to the city then we would be keen to track them down and take action against the people who are supplying them."