Ballykelly man charged with intent to commit murder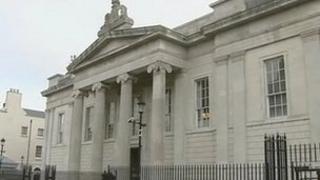 A 24-year-old old man has appeared at Londonderry Magistrates Court charged with attempting to choke or strangle his girlfriend with intent to commit murder.
Philip Henson of King's Lane, Ballykelly, is also charged with assaulting two police officers and threatening to kill police officers.
The incidents are alleged to have taken place at his home on Monday 1 October.
He was remanded in custody until 24 October.
A police officer told District Judge Mervyn Bates that police received a report at 02:14 BST on Monday that the defendant was fighting with his girlfriend outside his home.
When the police arrived, they noticed she had red marks on her neck.
She told the police that the defendant grabbed her with both hands on her neck in the kitchen of his home and squeezed so tightly she passed out.
When she regained consciousness, she said the defendant said he was sorry.
Aggressive
However, the court heard he later became aggressive to her again and drew a knife across his own throat before pointing the knife at his girlfriend.
He is alleged to have said to his girlfriend "you should have died when I strangled you".
The woman also told the police that the defendant punched her in the face and hit her face against the doorstep.
The police witness said that Mr Henson was arrested and placed inside a police car.
Inside the car, he head butted an officer twice in the face, kneed the officer in the thigh and bit him on the left hand.
He then told the officer: "I want to shoot you in the face. I look forward to shooting you in the face."
The police witness said she objected to Mr Henson being released on bail because she believed he would interfere with witnesses.
She said his girlfriend was now in fear of him.
He was refused bail.