Londonderry turned down as host for major athletics race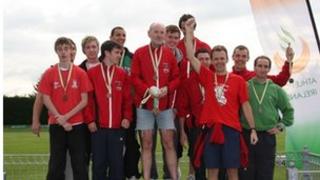 A bid to host a major athletics event at Derry's Templemore Sports Complex has been turned by the sport's governing body.
City of Derry Spartans Athletics Club wanted to host the Northern Ireland Relay Championship as part of the City of Culture celebrations in 2013.
Athletics NI say the track at Templemore is not up to the proper standard.
The body also cited poor facilities for competitors and spectators.
Spartans coach Caitleen Ketelaar said facilities at Templemore need to be upgraded.
"We were told that the track just wasn't up to standard and the equipment was substandard and just not safe to use.
"It was unsafe for us to bring clubs from all over Northern Ireland down to Derry.
"One of the big areas of concern is that we don't have the stand or any sort of cover at the track.
"It is completely exposed in bad weather conditions. There is nowhere for the competitors or spectators to stand so if it is raining you are going to get soaked which isn't ideal for sports.
"The other issue is that the toilets and the changing area were away from the track so younger competitors had to leave the track to use the toilet which obviously isn't ideal."
John Allen from Athletics NI said Templemore does not meet their criteria.
"I saw the condition of the track a year ago.
"It was badly in need of repair then and I imagine it hasn't improved much.
Dangerous
"There are a number of areas that are almost dangerous.
"We were approached about the NI Relay Championships being hosted at Templemore.
"Iit was felt that the track wasn't up to scratch, especially with smaller children taking part.
Derry City Council, which owns the facility, issued the following statement.
"The Council is not aware of any application or request to hire the facility for any relay or race competition.
The spokesperson said as the track season ends in September and does not begin again until April, the Council would not expect to host any competitions between this period.
The Council has contacted City of Derry Spartans Athletics Club directly on this matter and is currently awaiting a response."