Derry traders' chief fears one in three shop closures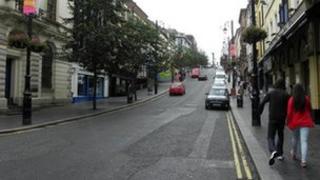 A prominent Londonderry businessman has said he fears that one in three shops in the city will be soon by lying vacant.
Martin McCrossan was reacting to research which found the number of empty properties in the city had doubled in the last year.
Mr McCrossan, who is chairman of the Derry City Centre Traders' Forum, said the current figure of one in five shops is, he believes, a conservative estimate.
He said it would get even worse if Environment Minister Alex Attwood did not turn down applications for large out-of-town shopping centres.
"The minister has on his desk at this moment in time nine applications for out-of-town shopping centres.
"I am hoping that he sees this report and refuses all out-of-town applications.
"We are seeing small independent retailers who have been on the go for many years going to the wall.
"We particularly have been concerned about the number of small shops going out of business. We have small retailers who can't afford to pay their rates, this is a very serious worry.
"This is well on the way to one in three empty shops in Derry city centre."