Father and son farmers admit cruelty to bull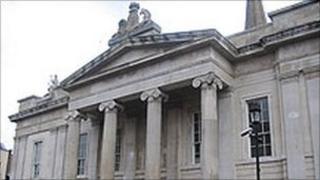 Two farmers from County Antrim have pleaded guilty to causing unnecessary suffering to a bull that had to be destroyed because of its injuries.
45-year-old Gregory Boyd from Rasharkin and his father Samuel Boyd who is aged in his 70s were convicted at Londonderry Magistrates Court.
They also pleaded guilty to permitting an act of cruelty to the bull.
Samuel Boyd was fined £750. Gregory Boyd will be sentenced next month.
District Judge Austin Kennedy was told that the injuries were so bad the animal was taken out of the food chain after it was destroyed.
A prosecution solicitor told the court that staff at Foyle Meats alerted the vet when they saw the injured bull lying on its side inside a trailer.
He said numerous efforts were made by the vet and staff members to get the one tonne bull back on its feet but those efforts were unsuccessful and the animal was humanely destroyed.
Convictions
The prosecutor said Samuel Boyd had no previous relevant convictions but his son Gregory had several relevant convictions in 2011 and this year.
Defence solicitor John Fahy said he accepted that Samuel Boyd should have taken steps to have the bull slaughtered at his farm.
However, after he viewed photographs of the bull in the trailer and of its injuries, the district judge said he did not believe the explanation put forward by the defendants.