Chinese criminal gang link to County Derry drugs find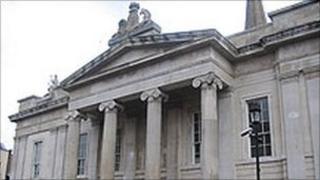 A 43-year-old man has appeared in court in Londonderry after the discovery of drugs with an estimated street value of more than £700,000.
Frankie Huang, from Meadowcroft in Dromore, County Tyrone, was charged with possessing 38kg of herbal cannabis with intent to supply.
The drugs were found at a house in Leckagh Drive in Magherafelt.
Mr Huang was remanded in custody to appear by videolink next month.
A police officer told Londonderry Magistrates' Court that the harvested herbal cannabis was branded and was located in the attic of the house during the police search.
Another man was arrested later that day at the Sandyknowes roundabout near Belfast with £35,000 in cash in his car.
The officer said that man is currently in police custody.
Immigrants
He said a house in Dungannon was also searched as part of the police investigation and inside this house police found three illegal male Chinese immigrants, £80,000 in cash, and a number of false identity documents.
The officer said he believed the defendant was a member of an international South East Asian criminal gang and that the house in Magherafelt was what he called a drying house to pack the herbal cannabis before its distribution.
The police witnesses said four other Asian males apprehended by the police had yet to be identified.
The PSNI had yet to establish the defendants' rank in the crime syndicate but he believed that if released on bail they would flee the jurisdiction and would also be at risk from other gang members.