Paralympian Jason Smyth receives another golden delivery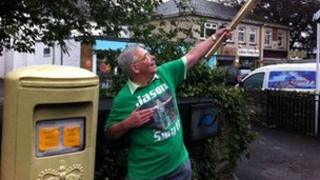 Paralympic hero Jason Smyth has been honoured with a golden post-box in his home village of Eglinton, County Londonderry.
Royal Mail had said they would not be painting the post box because Smyth ran for Team Ireland and not Team GB.
But the company reversed that decision after public pressure.
Northern Ireland paralympians Michael McKillop and Bethany Firth will also have post boxes painted in their home towns of Glengormley and Seaforde.
Jason Smyth welcomed the news on his Twitter account
He said: "Gold post box on the way, great to see a change of heart from @RoyalMail Thank you."
Smyth's grandfather Robert also welcomed the news.
"I think it is an excellent decision and a sensible decision. The Post Office has listened to the people and acted accordingly," he said.
"And it's not just Jason. It's also Michael McKillop and Bethany Firth.
"Out of the eight golds that Ireland got, five came from Northern Ireland so this is great for Northern Ireland and it is the right and proper decision to make," he added.