Emmet Shiels murder trial collapses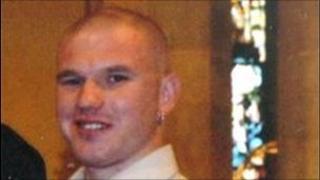 The trial of a 20-year-old man accused of murder in Londonderry four years ago has collapsed.
Thaddeus McAllister walked free from court in Coleraine on Tuesday when the prosecution offered no evidence.
He had been accused of shooting dead pizza delivery driver Emmet Shiels in Derry in June 2008.
Twenty-year-old Mr McAllister - whose address could not be disclosed for legal reasons - was also charged with attempting to murder another man.
Emmet Shiels' murder shocked the city, and brought a thousand people onto the streets in condemnation.
The 22-year-old was delivering pizzas in the Creggan area of Derry when he was caught up in a confrontation with masked gunmen.
He tried to intervene to defend the gunmen's intended target but they chased him across a grassy area in front of St Mary's Church where he was shot twice.
He was taken to hospital, but died of his injuries.