Eglinton Paralympian Smyth misses out on gold post box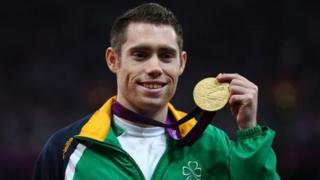 Royal Mail has said Jason Smyth's success at the Paralympic Games will not be recognised with a golden post box in his home village of Eglinton, County Londonderry.
Locals want the post box to mark his double gold medal haul in London.
Across the UK, Team GB Olympians and Paralympians have had post boxes painted in their honour.
But Royal Mail said they could not provide them for Team Ireland athletes even if they are from Northern Ireland.
A spokesperson said, "We absolutely acknowledge Jason Smith's achievement, but the stamps and gold post boxes were specifically for gold medal winning olympian and paralympians who competed for Team GB.
"We can't change that, even for people in the north of Ireland."
Eglinton resident Bob Parke has called on Royal Mail to have a change of heart.
"Jason Smyth has brought enormous credit and fame to the village as well as to himself. This is a way or recognising his achievement.
"If it is being done across the water, we should do it here as well because we are enormously proud of what he has done.
"I don't think the arguments are finished yet; we have a few days yet before we have a celebration for him so we will just have to wait and see."
Another resident of the village Dymphna Stewart said Royal Mail's argument did not stand up.
"A gold medal is a gold medal. Jason lives in the village and his post is delivered by the Royal Mail. All his congratulations cards and fan mail will be delivered by Royal Mail to his house.
"I think it would be fantastic if Royal Mail joined in the community spirit.
"We are so so proud of Jason I think the community deserves a gold post box and we would love to see a gold post box in Eglinton," she said.