Eglinton paralympian Smyth thrilled with medal haul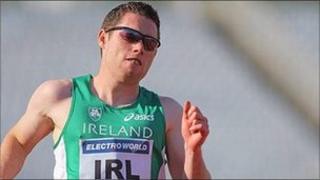 Eglinton double gold medal paralympian Jason Smyth has told his rivals that he believes the best is yet to come.
The 25 year retained both his 100 and 200 metre titles at London 2012, breaking his own world record in both events.
Smyth will return home on Monday to a hero's welcome but is already thinking ahead.
He said he is disappointed not to have qualified for the Olympic Games and wants to make up for it at Rio 2012
"The Olympics is a target. I was extremely close this year, 0.04 of a second away from the standard to qualify.
"I believe I should have run the standard this year. But things didn't quite happen and the best is yet to come from me, the goal of qualifying for the Olympics for me should really be a realistic one, so why not."
Smyth's father Lloyd paid to emotional tribute to his son.
"Jason knows how proud we are of him. We are very close and we do talk. We are very happy with what he has achieved.
"He is a credit to us as parents and to our town and to our country and we are grateful to be able to part of the tremendous achievements he has done in the past week.
"I remember when Jason was eight and we found out that he had an eyesight problem. His mother and I were devastated.
"We had no idea what the future held for Jason, we realised that he was going to be different, he would never be able to drive.
"At that stage we had no idea what kind of career he was going to be involved in so for us to be at the Olympic Stadium and to think back where we were 13 years ago, we are just to proud and so happy that it has gone this way."