Sinn Fein criticise police raid on Derry mayor 's home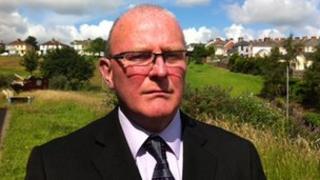 The mayor of Derry, Kevin Campbell, has demanded an apology after the police raided his home on Thursday night.
He said a laptop and three mobile phones were taken away but the police gave no reason for the search.
Mr Campbell lives in the Creggan estate and was elected mayor in June. He said he would be filing a complaint with the Police Ombudsman.
"It has damaged the integrity of the PSNI. My integrity remains intact," he said.
"I certainly want an apology and I want the items which do not belong to them to be returned immediately."
"Their intelligence believed that someone else was in the house along with me," he said.
"I told them categorically there is nobody in here. I'm the mayor of this city and my integrity is at stake.
"They obviously weren't accepting that. They arrived at half past ten and kept the house surrounded. At ten past four someone made the decision to raid the house.
"I'm demanding to know who made the decision and more importantly, on what grounds they made that decision," he said.
Mr Campbell said the operation sent out the "completely wrong signal" about policing in the area.
Sinn Fein MLA Raymond McCartney has described the raid as "inexplicable" and said the party will be demanding answers.