Is it a bird? Derry pigeon men's Amelia Earhart tribute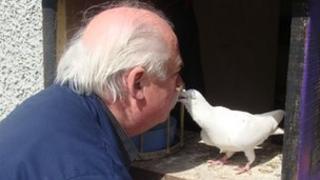 America's most famous aviator Amelia Earhart was not supposed to land in a field near Londonderry during her bid to become the first woman to fly across the Atlantic in 1932.
But that did not stop locals from rolling out the welcome mat and celebrating that record-breaking flight.
And 80 years on, a small flying club in Derry has paid its very own tribute.
Only this is a flying club with a difference.
The 27-strong member Rock Pigeon Club in Derry has renamed itself the Amelia Earhart Flying Club to mark the anniversary of her landing.
Its pigeon loft is located in Ballyarnet, close to the spot where Amelia Earhart was forced to touch down due to bad weather and technical problems.
Club treasurer, Cathal Fox, said it was a fitting tribute.
"Amelia Earhart is a great asset for this city and we don't think she's getting enough recognition locally," he said.
"Our club rooms are at the spot where Amelia Earhart landed and we're proud to name the club after her."
The Amelia Earhart Flying Club has been registered with the Royal Racing Pigeon Association which oversees the industry.
Cathal added: "Our club name is published on racing pigeon websites and magazines which are read across the UK and in America.
"People, particularly in the US, will associate the name Amelia Earhart with Derry and will hopefully come and visit the city."
Inaugural race
The club has planned an inaugural race from Cork to Londonderry this month to commemorate its new name.
After her transatlantic achievement, Amelia Earhart continued to break records.
But in 1937 her challenge to be the first woman to fly around the world ended in tragedy when her plane disappeared in the middle of the Pacific.
A rescue attempt lasted 17 days and scoured more that 250,000 square miles of ocean, but she was never found.
The aviator is a household name in America and an airport in Kansas was named in her honour.
In March 2012, a simliar bid to rename City of Derry Airport after the pioneering aviator was rejected after local politicians could not agree.
That decision was criticised by the former director of a small museum celebrating Amelia Earhart in Derry.
John Thompson said the failure to capitalise on Amelia Earhart's legacy was a "major mistake".