Derry parents urged not to send children to be shot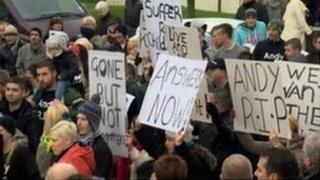 An anti-drugs group has urged parents of young people who take drugs not to send them to be shot in Londonderry.
The vigilante group, Republican Action Against Drugs, has shot several young men from Derry in this way.
But Opportunity Youth, which helps young people deal with addictions, said it was no solution to the problem.
Chief executive, Anne-Marie McClure, said professional help and not so-called punishment attacks was the answer to drugs misuse.
"Interventions such as group work, counselling and family support will ultimately make a difference to the lives of young people, not the barrel of a gun or other barbaric practices," she said.
"Parents should not be put in a position where they are taking their children to be shot by appointment.
"They should be taking their young people for appointments at services such as Opportunity Youth's DAISY (Drug and Alcohol Intervention Service for Youth) project.
"Our DAISY service offers bespoke programmes which address not only the core needs of young people affected by drugs and alcohol misuse but specific family-focussed support and help."