Londonderry traders call for aid to regenerate city centre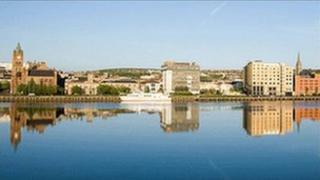 Londonderry traders have urged the Stormont Executive to breathe new life into the city by establishing Northern Ireland's first enterprise zone there.
The call was made at a meeting of local businesses and the NI Independent Retail Trade Association.
It forms part of a five-point plan to regenerate the city centre, which now has more than 100 empty shops, and includes proposals for new retail development and planning policies for the area.
Glyn Roberts of the NI Independent Retail Trade Association and Martin McCrossan Chair of Derry City Centre Traders Forum issued a joint statement in which they said a "radical change of direction" was needed.
"We believe with flexible planning, further rates holidays and capital allowances we could incentivise the city centre as the right location for retail development and new business opportunities, while respecting the conservation area," they said.
'Strong supporters'
They said that with more than 130 shop vacancies, 50 closures in the city centre and the prospect of nine out of town superstore applications, Derry city centre was under "serious threat".
"If this situation continues we believe one in three shops will be empty by the end of this year unless urgent action is taken," they said.
"Derry City Council and MLAs have to realise that they cannot expect the city centre and the local independent retail sector to have any future if they continue to support ever more out-of-town superstore developments.
"Both our organisations are strong supporters of the opportunities that the City of Culture will bring to the city. But what sort of impression will dozens of shuttered and closed shops and a declining Derry City Centre give to the thousands of visiting tourists from all over the world?"