Overhaul of Catholic education in Derry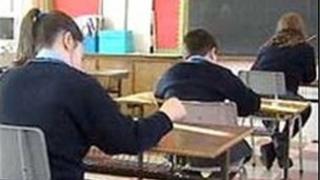 The Catholic church in Londonderry is proposing to end single-sex schools and phase out academic selection.
The plans are contained in a discussion paper which sets out the church's strategic vision for post-primary education in the diocese.
Full details of the proposals are available on the Derry diocesan website and the public is being invited to respond before the end of May.
The document is part of the wider review of Catholic education.
End academic selection
It proposes that the city's three grammar schools - Lumen Christi College, St Columbs College and Thornhill College - begin the process of phasing out academic selection.
The document says this will be done by reducing the number of pupils selected by academic selection by a third over two years, before reaching a point where less than half of pupils would be selected by academic ability.
The move to a bilateral system which effectively mean having a grammar 'stream' within an all-ability school. It would then be reviewed after five years.
Marie Lindsay, the principal of St Mary's College in Derry, said academic selection had brought benefits to many people in the city over decades.
"What we are being asked to here is not look at the individual schools but to look at our young people and their needs," she said.
"Academic selection is not purely academic selection anymore. Many children who get a D grade in the transfer exams are still applying to our grammar schools.
"Academic selection just divides people up in terms of disadvantage and that for Catholic education is not acceptable."
The head of the Derry Diocese said he is confident agreement can be reached among schools in the city to end academic selection.
Time for change
Monsignor Eamon Martin added that the time was right for change.
"We are very clear that some schools. particularly those who have been selecting academically for some time, will find it difficult to move away from that," he said.
"I believe there is a growing will in the city to move away from academic selection and we are hopefully moving towards consensus."
Pat O'Doherty, the principal of Lumen Christi College in Derry, said his school remained committed to academic selection.
"At the moment it would take an awful lot to convince me that academic selection is not the best way of education for those pupils who are academically capable," he said.
"At the end of the day it comes down to parental choice and if there are parents out there who wish to retain grammar schools then that choice should be honoured."
The discussion paper, published on Tuesday, also includes plans to establish a number of sixth form colleges in the city.