Gunmen 'meant to kill' Andrew Allen - girlfriend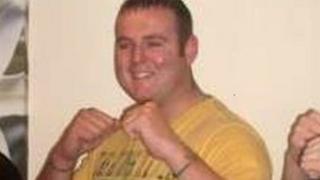 The girlfriend of murdered Londonderry man Andrew Allen has said she believes the gunmen meant to kill him.
The father of two from the Top of the Hill area of Derry died after a number of shots were fired through the window of his Buncrana home a week ago.
Dissident republicans have been blamed for his death.
Arlene Farley said she believes the gunshots were never meant as a warning, and the gunmen could have killed everyone in the house.
"We were lying in bed and we heard big bangs, so I looked out of the window and saw a man with a baseball cap kicking and kicking the door.
"He had a shotgun in his hand.
"The next thing the shot came through the window, I turned round and Andy fell to the ground. He said: 'Arlene, I can't feel my legs'.
"I was trying to phone the guards and the next thing Andy just slid towards me, towards the door.
"I rang the ambulance straight away and I was trying to hold his head up because the blood was coming out of his mouth.
"The neighbour helped me put him on his back and I tried to give him CPR.
"I tried to blow in his mouth but the blood was just coming out of his mouth, and down his nose and I knew he was dead."
Ms Farley said she believes the men intended to kill.
"If it had been a warning they wouldn't have tried to get in the door the way they did, but they really wanted to get in.
"They only shot through the window because they couldn't get in.
"I was in that room, Andy was in the room, his 6-year-old son sometimes stays down and he could have been in the room.
"They didn't know who was in that room when they started shooting,
"They just didn't care who they hit or who they killed.
"I just wanted to keep him alive, and I couldn't," she said.
Mr Allen was one of several men forced out of Derry by a republican vigilante group last year.
'Worst nightmare'
His mother Donna Smith said the family are living "their worst nightmare".
"He would have gone out of his way to help anybody, and he never did anything to harm anyone.
"He was my boy, and I don't want any family or mother or father to go through what we're going through.
"This has to stop, things can't go on like this, gunmen can't go out and be judges and executioners.
"How many boys have had to leave their families?
"The people of Derry have got to get together and do something.
"It's just a black hole that will never be filled."