Thousands at opening of Derry's Ebrington Square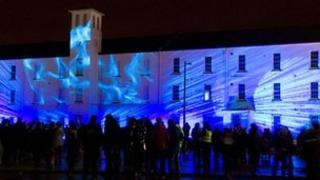 Five thousand people have attended the opening of Ebrington Square in Londonderry.
The city's newest public space - which is bigger than Trafalgar Square - is a former parade ground.
Ebrington Barracks closed in 2003. It opened in 1841 and was home to both the Army and the Navy.
The square was opened by the first and deputy first ministers and features a performance area for major concerts as well as four smaller arenas.
The centrepiece of the opening ceremony was a light show projected across the facade of the Clock Tower building.
There was also a Chapel of Love in honour of Valentine's Day, and music from the Codetta Choir, Inishowen Gospel Choir, Bronagh Gallagher, The Wonder Villains, and Future Chaser.
First Minister Peter Robinson told the crowd that a "massive transformation" was taking place in Derry.
"Being a Belfast man you might think I am somewhat detached, but I'm really excited at what's happening here.
"I can just imagine the benefit this will be for major events and performances.
"It will add to the attractiveness for visitors and residents, and add to infrastructure which attracts investment and means better jobs and a better life for people here."
The opening of the square connects the Peace Bridge - which opened last year - directly to Derry's Limavady Road.
It is the next step in the Ebrington Masterplan, which seeks to transform the former barracks into a space for mixed residential, commercial and cultural uses.
The square will be one of the key performance and cultural spaces for Derry's year as City of Culture.