Cathedral Quarter arts projects under pressure as grant ended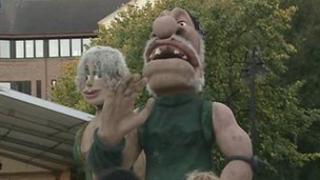 The Laganside Events Grant will close in March 2012.
Arts groups who hold events throughout the Cathedral Quarter in Belfast said it could have "serious implications" on a number of festivals held in the area.
The Cathedral Quarter Steering Group said the Cathedral Quarter Arts Festival, Festival of Fools and the Out to Lunch Festival could be under "serious threat".
The Department of Social Development said it was due to "funding pressures".
"We have notified those organisations which usually apply for this grant in order to provide time for them to identify other potential funders for events planned for later this year," a DSD spokesperson said.
"The department remains committed to promoting the Laganside area and has earmarked £530,000 to support the initial operations of the new MAC when it opens in April 2012.
"We also have a funding commitment of £100,000 to support the work of the Cathedral Quarter Steering Group."
Paul McErlean, from the Cathedral Quarter Steering Group, said they had called on the DSD minister, Nelson McCausland, to reinstate the fund "as soon as possible".
"I've been in touch with a number of arts groups who have received letters without any prior consultation or indication that the funding would go," he said.
"Festivals and events are the very essence of the Cathedral Quarter.
"When you think of the importance of tourism and the hospitality sector to the city, and the number of people employed, you have to appreciate that festivals like the Cathedral Quarter Arts Festival and events like Culture Night and Summer Sundays inject thousands of people into the city centre."
Sean Kelly, director of the Cathedral Quarter Arts Festival, said he was disappointed.
"This fund has been a small, yet significant opportunity for promoting tourism and creative industries in the Cathedral Quarter and the minister's action is all the more surprising given that these are priority areas in the executive's draft programme for government," he said.