Shots fired in Derry bookmakers' in Creggan and Shantallow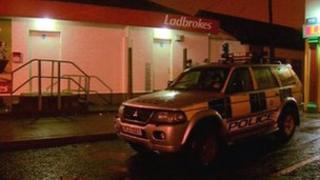 Shots have been fired in two bookmakers' shops in Londonderry.
A masked man went into one of the shops on Central Drive in the Creggan estate at 20:30 GMT on Thursday and fired a single shot.
Ten minutes later, two masked men went into the other shop at Racecourse Road near Shantallow and fired a number of shots.
No-one was injured but staff and customers were shocked by the attacks.
A man who was in one of the shops when the shooting happened said: "People came in and said: 'IRA, everybody down on the floor.' So I got down on the floor under a table and the next thing was indiscriminate shooting."
SDLP MLA Pat Ramsey said he had been told the men entered the shops, said they were from a republican group and shot at poker machines.
Police have not ruled out a possible link between the shootings and the murder of a Derry man in Buncrana at about the same time.
PSNI Chief Inspector Gary Eaton said: "It is very early days. We are open minded about the attacks and the motivation for the attacks and who might be behind them.
"This indiscriminate attack is an attack on our whole community. For some people these establishments are a social opportunity.
"There is no way people should be terrorised like this. We are lucky no-one has been injured or worse."
He appealed for information.
Seamus Heaney, community worker in the area, said such attacks were not acceptable.
"No justice is served through the barrel of a gun," he said.
"There's a stubborn group of people who refuse to acknowledge that the vast majority of people want them to go away."