Policing Board in call over young victims of paramilitaries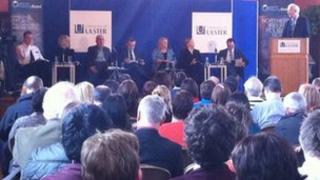 The Policing Board has urged the PSNI to do more to protect children and young people from paramilitary style attacks.
Almost half of such attacks between April 2010 and September 2011
were carried out on victims aged between 16 and 24 years of age.
The issue is one of the topics that will be discussed at the launch of The Policing Boards 7th Human Rights Annual Report.
The report will be launched at the Magee campus at The University of Ulster in Londonderry.
Conall McDevitt, chair of the Board's Human Rights and Professional Standards Committee, said a key concern is the low clearance rate of the crime.
"The PSNI must do a lot more to build positive relationships with communities where punishment attacks take place," he said.
"They must work much harder at building up a relationship with young people.
"If communities have full confidence in the police, I would expect communities then to have confidence that the police would bring people who they suspect of crime properly to justice.
Chief Constable Matt Baggott said the report endorsed the PSNI's approach to human rights based policing.
"Human Rights are enshrined in every aspect of our work from dealing with issues of local concern to those of National Security and serious harm," he said.
"I would also like to take this opportunity to thank my colleagues in the PSNI for their commitment to delivering a human rights centred policing service to all the people of Northern Ireland.
Professor Deirdre Heenan, Provost and Dean of Academic Development at The University of Ulster said it is "particularly fitting" that the Policing Board's Human Rights Annual Report is being launched here.
Board members, the Board's Human Rights Advisor, the Chief Constable and community representatives on policing and human rights issues will attend the meeting.