Man faces court over south Belfast car hijack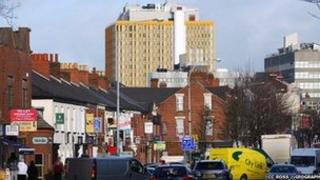 DNA evidence from a hooded top allegedly links a 19-year-old Belfast man to a car hijacking in south Belfast, a court has heard.
Charges were brought against Gavin Wilson following a forensic examination of the garment seized at the scene, police said.
Wilson, from Crumlin Road, was arrested in connection with the attempt to take control of a Volkswagen Golf off the Lisburn Road on January 16.
He denies charges of hijacking.
He also denies driving whilst disqualified and without insurance, and breaching an anti-social behaviour order by causing distress.
Wilson was remanded in custody after appearing before Belfast Magistrates' Court.
Dressed in a grey hooded top, he spoke to confirm he understood the allegations against him.
A detective constable confirmed he could connect the accused with the offences.
Struggle
Opposing bail due to the risk of further offences, the officer said a Viper identification process was not proceeding, partly due to other evidence against the defendant.
It was disclosed that a hijacker who got into the car had his top taken from him during a struggle with a passenger.
The court was told initial forensic tests revealed Wilson's DNA was a major contributor to a mixed profile obtained from the garment.
"Any other DNA found is of unknown persons; police would feel it is possibly the victims of the crime who were at that stage, police believe, trying to stop Mr Wilson leaving," the detective said.
Defence solicitor Eoghan McKenna claimed the evidence against his client was weak.
The lawyer also referred to the ongoing police probe into the incident and 13 other vehicle hijackings in January.
A dedicated taskforce has been set up to investigate the spate.
Mr McKenna said: "Police are under considerable pressure to try and put charges before the court in relation to this investigation, given the media profile.
"But this charge is based on evidence that hasn't even been formalised into a report."
He added that Wilson strongly denies involvement in the hijacking.
However, District Judge Fiona Bagnall refused bail due to what she described as "a strong likelihood of re-offending".
Wilson was remanded in custody to appear again on video-link in February.
As he was being led from the dock he pulled up his hood and smiled at a friend in the public gallery.