Robinson and McGuinness welcome Derry fleadh decision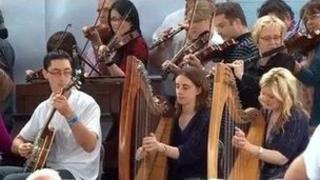 The first and deputy first ministers have welcomed the Ulster Council of Comhaltas' decision to back Derry's bid to host the 2013 All-Ireland Fleadh.
The Ulster Council reversed its decision not to endorse the bid following a meeting of senior officers on Tuesday night.
First Minister Peter Robinson said the event would "be of both cultural and economic benefit to Londonderry".
Martin McGuinness said the council's move was "a very positive development."
"There has been a tremendous groundswell of support for the bid from not just Ireland but all over the globe since the weekend and I commend the Ulster Council of Comhaltas for now deciding to nominate the city to host the All-Ireland Fleadh next year.
"I've no doubt that a strong case will be put forward and I sincerely hope that we will have further cause for celebration this weekend," he added
The Derry branch of Comhaltas had appealed against the decision of the organisation's Ulster Council not to put the city forward as host.
A decision on whether the city will host 2013's event will now take place this weekend.
At a meeting of Derry Comhaltas last Wednesday, members voted 13-1 in favour of the bid.
However, after two dissident republican bombs exploded in the city last week, the Ulster council turned down the bid.
On Wednesday, Mr Robinson said: "I am pleased that whatever concerns may have existed surrounding the hosting of this event have now been addressed and that common sense has prevailed".
'Dissident danger'
Comhaltas promotes traditional Irish music and culture around the world.
On Sunday, the organisation's Ulster council said it was impossible to support the city's bid to host the popular music and dance festival because of the danger from dissident violence.
It said that with "deep regret and long consideration", it was turning down the bid because safety was paramount.
The UK City of Culture organisers had been hoping to bring the fleadh to Northern Ireland for the first time ever in 2013.
But the UK link to the traditional Irish event had already proved a stumbling block with some members.
Director general of Comhaltas in Ireland, Labhras O Murchu said: "There was a meeting again with the same body who met last Saturday.
"They reconsidered the decision which was made and we're expecting an application to arrive on Wednesday.
"It's impossible at this stage to call what way the vote may go.
"Because this issue has been so well debated there isn't a member on the council who hasn't a greater understanding of the issues involved in the Derry bid."
Bid ratified
Eibhlin Ni Dochairtaigh, chair of the the Derry City branch of Comhaltas, welcomed the move.
"I think that whatever issues and concerns were expressed have been addressed to their satisfaction.
"I very much appreciate and welcome their continued support. The reversed decision has ratified the bid."
The central council of Comhaltas will meet on Saturday for a final decision on the venue. Sligo and Ennis are also bidding to host the fleadh