Countdown to Derry's year as UK City of Culture begins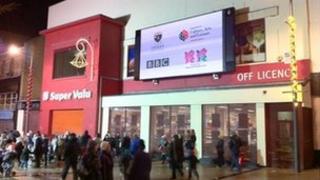 A calendar counting down to Londonderry's year as the first UK City of Culture in 2013 has been launched at a site in the city-centre.
The calendar went on display on the BBC big screen at Waterloo Place on Thursday.
The opening concert of the City of Culture year is called 'Sons and Daughters' and will be held on 12 January 2013.
Culture Company chairman, Martin Bradley, said it will be a major event.
"We are talking to a number of people who are famous sons and daughters of the city who have gone on to international acclaim.
"So we will be bringing them all home next year."
Mr Bradley said the City of Culture programme will be announced over the course of 2012.
"We will be announcing the highlights programme for the entire year around April and then in September, we will be announcing the full details of the programme.
"The programme that is being put together is quite astonishing. Hopefully, when it is announced people will see exactly what is happening and will be impressed.
"It really is exciting times. We are now 365 days away from our first event. It is amazing how quickly the clock is ticking", he added.
Derry was chosen as the UK's inaugural City of Culture in July 2010.