Oil tanker with cracked deck to sail to Belfast for repair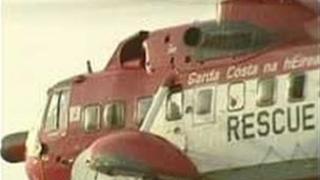 A large oil tanker that got into difficulties off the coast of Donegal is making its way to Belfast.
The coastguard said the captain of the Genmar Companion reported cracks in its deck but there has been no leak.
The vessel, which was en route from Rotterdam to New York, is carrying 54,000 tonnes of vacuum gas oil and has a crew of 23 Indian nationals.
The Bermuda-registered tanker was refused entry into Cork and is due to arrive in Belfast Lough in the evening.
The 228-metre vessel halted 25 miles off Tory Island before beginning the journey to Belfast to make repairs.
An Irish Aer Corps plane is monitoring the situation.
Denis Moloney from Malin Head Coastguard said all 23 people on board were "safe and sound".
"There are no leaks on the vessel, and it is a precautionary measure to go to Belfast," he said.