Court hears challenge to gay and unmarried adoption law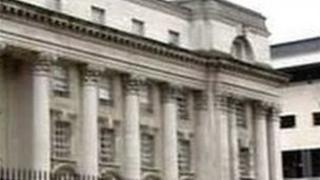 Gay and unmarried couples in Northern Ireland are being denied adoption rights without any consideration of their ability to provide a loving home, the High Court has heard.
A judge was told the current law is at odds with the rest of the UK.
It was also claimed that the law was not in the best interests of children.
The NI Human Rights Commission has brought a legal challenge against the Stormont executive in a bid to force a legislative overhaul.
It claims the current arrangements discriminate against unmarried and civil partnership couples and breach human rights.
Opening the application for judicial review, Monye Anyadike-Danes QC said: "Northern Ireland is the only part of the United Kingdom which provides a gateway for adoption through which only couples who are married may pass."
The challenge has been backed by an unidentified lesbian woman and her partner who want to adopt a child together.
In a clear indication of its importance, the executive's chief legal adviser, Attorney General John Larkin QC, represented the respondent, the Department of Health.
Reference was also made to an unmarried couple from Northern Ireland who won an exceptional right to adopt after taking their case to the House of Lords.
Discriminatory
If the Human Rights Commission succeeds it would remove the adoption ban completely.
It is seeking to ensure everyone, irrespective of sexual orientation or marital status, has the opportunity to provide a loving and secure home, the court was told.
Ms Anyadike-Danes told Mr Justice Treacy her client wanted to ensure "the pool of potentially suitable parents is as deep as possible".
She stressed that the case was focused on the eligibility stage of the adoption process, rather than the later assessment stage.
"That is the right time to look at circumstances," the barrister said.
"Not to exclude people with a blanket barrier without even knowing whether they have the qualities to offer a child a nurturing and loving and permanent home."
She argued that there was no justification for the alleged discrimination.
"The current state of the law, we say, is not something that has been established to be in the best interest of the child," she said.
"We consider the status quo, as it impacts on all unmarried couples, to be discriminatory."
The hearing, which is expected to last for three days, continues.