Poppy wreaths stolen and burned in Londonderry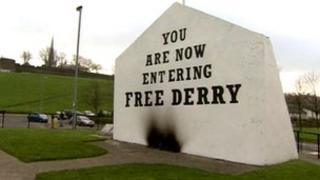 A number of wreaths have been stolen from the war memorial in Londonderry city centre and set on fire.
They were found burned at Free Derry corner in the Bogside at about 0300 GMT on Wednesday.
Foyle DUP MLA, William Hay, said he was "sickened" by the incident, and it was "sad that people don't have respect for the war memorial".
"It is difficult to understand the mind-set of anyone who would do this," he said.
The Royal British Legion has condemned those responsible.
In a statement, it said that it was disappointed that people carried the wreaths to Free Derry Corner in an effort to link the wider community with the act.
Sinn Fein councillor Mickey Cooper, said the incident "beggared belief".
"There can be no place in our society for this kind of desecration or vandalism," he said.
"It should not be used as an excuse by anyone to go out and do something similar, or heighten tensions in any community."
The incident has also been condemned by the Ulster Unionist Party and the SDLP.