Men charged with GAA MacLarnon trophy theft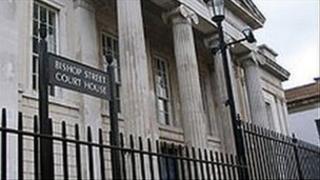 Two Belfast men have been remanded in custody charged with a string of offences including helping to steal a schools' GAA trophy.
John Paul Gormley, 23, from Cliftonville Avenue, and 25-year-old Michael Flannery from Newington Street appeared at Londonderry Magistrates court on Monday.
The court was told that the pair were arrested in Londonderry after ramming a police vehicle with a stolen car.
The trophy was found in the boot.
The award, the MacLarnon Cup for Year 14 students, was stolen during a creeper burglary in Orchardville Avenue in Belfast on Sunday.
A police officer said that later that day, the car carrying the two defendants was involved in a hit and run accident on the lower deck of the Craigavon Bridge in Derry.
A car driven by a pregnant woman was substantially damaged.
The defendants then drove off at speed towards the city centre, narrowly avoiding members of the public who had stopped to help the prenant woman.
The court was told that a short time later, police received reports that the defendants' car was being driven around the Rosemount area.
Several police cars went to the area and signalled to the defendants to stop, but the car rammed a police vehicle.
The defendants were then arrested as they tried to drive away.
They were charged with a combined total of 18 offences, which included dangerous driving, failing to stop, assaulting police and assisting in the removal of a GAA trophy.
The court was told Flannery was currently under a suspended jail sentence, and Gormley has 8 bench warrants outstanding against him.
A defence solicitor said the defendants admitted 95% of the charges they faced.
District judge Barney McElholm refused bail because of fears both men would reoffend, and concerns they would not turn up in court for their future trial.
He described the offences as "outrageous", and said it was almost inevitable both men would recieve custodial sentences.
Both defendants were remanded in custody and the case was adjourned until December.