Tributes paid to retiring Bishop of Derry Seamus Hegarty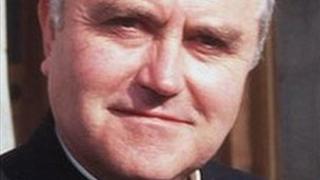 Tributes have been paid to the Catholic Bishop of Derry, Dr Seamus Hegarty, after he announced his retirement for health reasons.
Dr Hegarty said he was being treated for an "irreversible and progressive" condition.
The former Bishop of Derry, Dr Edward Daly, thanked him for his "unfailing kindness" and "constant care".
The Church of Ireland Bishop of Derry and Raphoe, Dr Ken Good, said his resignation was "a matter of regret".
In a statement on Monday, Dr Hegarty said he decided to submit his resignation because he can no longer fulfil his diocesan role.
Dr Hegarty, who is 71, has been Bishop of Derry since 1994. He was ordained as a priest in 1966, and was consecrated Bishop of Raphoe in 1982.
In recent years he urged anyone who has been abused by a member of the clergy to go to the civil authorities, and apologised to people who suffered child abuse in Catholic-run institutions.
In 2005 he apologised to parishioners for not telling them that a levy from their contributions was going towards the Stewartship Trust Fund for victims of clerical sex abuse.
Dr Hegarty has said he will scale back his duties while the Pope considers his letter of resignation, but he hopes to maintain a pastoral ministry as long as he is able.
'Good wishes'
Dr Daly said he was shocked by Dr Hegarty's resignation.
"I am conscious of the huge and demanding burden of responsibility that a bishop has to accept. Bshop Hegarty was prudent and wise to submit his resignation if he did not feel able any longer to continue in his episcopal responsibility.
"I have been speaking to him, and assured him of my good wishes and prayers in the years to come."
Dr Good said he sent prayers and good wishes to the bishop on behalf of the Church of Ireland community in Derry and Raphoe.
"As Bishop Hegarty begins this new phase in his life, with its challenges, we wish him well."
The former church of Ireland Bishop of Derry and Raphoe, Dr James Mehaffey, said Dr Hegarty had to deal with many pressures at a time when the Catholic church was under intense scrutiny.
"It's been a very difficult time for bishops in the church, and I think it was not easy sometimes taking interviews and trying to bring forward a honest assessment and at the same time keep one's position.
"I had great sympathy for him during those difficult years."
'Straight-talking'
The Deputy First Minister, Martin McGuinness, said he was sorry to hear Dr Hegarty was unwell.
"Dr Hegarty presided over the diocese of Derry for the last 18 years, during which the peace we now enjoy was being fostered.
"Throughout this period, he was very supportive and I want to express my appreciation for the positive role he played.
"I hope the process of appointing a successor to Bishop Hegarty takes place without any delay.
"I believe that Dr Hegarty's retirement provides an opportunity to begin the process of elevating a younger generation of priests into the Church hierarchy."
The MP for Foyle, the SDLP's Mark Durkan, said he wished Dr Hegarty well in his retirement.
"In my dealings with him he has always impressed me as someone who is straight-talking and hard-working with a keen and active interest in the whole range of public affairs - but not for publicity's sake.
"Education has been his particular passion, and he has been particularly effective in enhancing the schools' estate and influencing the hierarchy's attitudes on academic selection."