Bishop of Derry Seamus Hegarty to stand down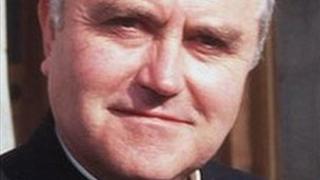 The Catholic Bishop of Derry, Dr Seamus Hegarty, is to stand down.
In a statement, he said he had decided to resign for medical reasons.
He said he is receiving treatment for a condition which is "irreversible and progressive". He decided to submit his resignation because he can no longer fulfil his diocesan role.
Dr Hegarty, who is 71, has been Bishop of Derry since 1994. He was ordained as a priest in 1966, and was consecrated Bishop of Raphoe in 1982.
In recent years he urged anyone who has been abused by a member of the clergy to go to the civil authorities, and apologised to people who suffered child abuse in Catholic-run institutions.
In 2005 he apologised to parishioners for not telling them that a levy from their contributions was going towards the Stewartship Trust Fund for victims of clerical sex abuse.
Dr Hegarty has said he will scale back his duties while the Pope considers his letter of resignation, but he hopes to maintain a pastoral ministry as long as he is able.
Father Dermot Harkin, who is parish priest at St Brigid's in Carnhill in Derry, said he was very sorry to hear of Bishop Hegarty's illness.
"If it's a situation where an illness is going to get worse it takes a lot of courage to admit you have to step back from things.
"I'm very sorry he's unwell, I've always found him a very kind and decent man, and I wish him all the best."
'Straight-talking'
The MP for Foyle, the SDLP's Mark Durkan, paid tribute to Bishop Hegarty, and said he wished him well in his retirement.
"In my dealings with him he has always impressed me as someone who is straight-talking and hard-working with a keen and active interest in the whole range of public affairs - but not for publicity's sake.
"Education has been his particular passion, and he has been particularly effective in enhancing the schools' estate and influencing the hierarchy's attitudes on academic selection."