North West projects triumph at National Lottery awards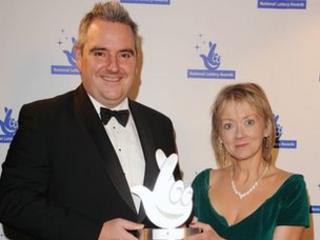 Two projects from the north west have triumphed at the National Lottery Awards in London.
Hands That Talk, which offers support for deaf people, won Best Voluntary/Charity Project.
We Were Brothers, which explores the story of unionist and nationalist soldiers who served together in the First World War, was named Best Heritage Project.
The winners were announced at an awards ceremony on BBC1 on Saturday.
Felicity McCall from Derry-based We Were Brothers, said the award was a "recognition of the huge amounts of time, energy and commitment that people have put into projects like this."
Denise McConnell, from Hands That Talk in Dungiven, said the group were "so proud" of the award.
"We feel this has really recognised the work we do with deaf and hard of hearing people."
The Northern Ireland Chair of the Big Lottery Fund, Frank Hewitt, said both projects were "a great example of the broad range of groups that make a difference to communities most in need throughout the UK.
"I hope that project beneficiaries, volunteers and employees take time out to celebrate the positive difference they are making to their community and their success helps them attract further support from the community around them."